Bidding wars were down considerably, with the close-price-to-list-price ratio at 100.23 percent market-wide. Some homes are still selling in a weekend with multiple offers, but many more are sitting on the market for a few weeks with one or two price reductions before finding a buyer. The days of routinely putting a home on the market and watching it sell to the highest bidder in days are gone.
One reason bidding wars are down is because buyers are far more discerning. They want to negotiate and feel as though they are getting a win in a landscape with rates hovering around seven percent and construction costs soaring."
Chair of the DMAR Market Trends Committee | Denver REALTOR®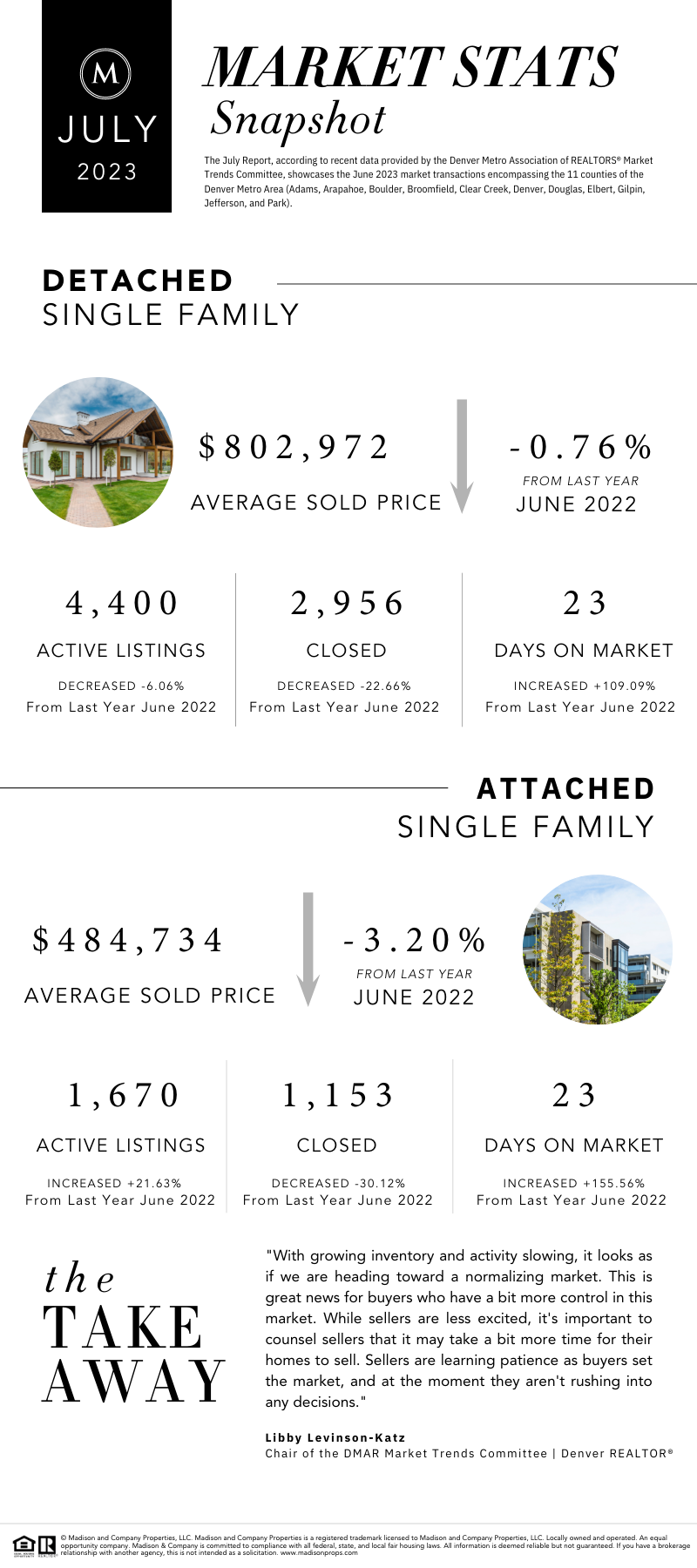 LUXURY MARKET ($1,000,000 AND UP):

"June consisted of raincoats, insurance claims and a competitive real estate market. While we may not see a market like years past, the over-million dollar price point continues to stay competitive. It is not a surprise that the $1 to $1.5 million properties are more competitive than the properties listed above $1.5 million, likely because there are significantly fewer buyers as price increases. There were 326 closed properties between $1 and $1.5 million while only 188 closed properties above $1.5 million. Of those 188 closed properties, only 14 were attached properties. Supply and demand is significantly more apparent in single-family detached properties over attached properties. It has been a consistent trend that buyers over $1 million prefer to have a detached property."

Andrew Abrams

, DMAR Market Trends Committee member & Denver REALTOR®.
SIGNATURE MARKET ($750,000 - $999,999):

"Calm, breezy, slow-paced, relaxed, cool. No, that's not the description of the beautiful nights I spent on vacation at a tropical getaway. It's the Denver real estate market right now. Summer vacation time is here, and the market is taking full advantage. While the entire market experienced a decline of 24.93 percent year-over-year in sales volume, this price range saw a decrease of 31.73 percent. Not only was the volume down, but so were new listings. Down 21.51 percent compared to last year, this segment closely mirrored the entire market, which saw a decline of 23.26 percent compared to June 2022. And, even though the inventory of homes for sale was lower than in the previous year, home sellers had to adjust pricing to accommodate for higher mortgage interest rates, reflected in a lower close-price-to-list-price ratio of 99.8 percent, compared to 2002's impressive 105.15 percent."

Susan Thayer

, DMAR Market Trends Committee member & Denver REALTOR®.
PREMIER MARKET ($500,000 - $749,999)

"In June, Dener Metro area new listings increased by 8.69 percent with 2,152 (nearly 40 percent) coming from this market segment. Within this subset, median days in MLS held steady at seven days month-over-month, while higher-priced homes experienced a slowdown. Also within this segment, close-price-to-list-price rations stayed above 100 percent at 100.40 percent for both detached and attached homes while price-per-square-foot increased to $284, up to 0.71 percent from May inching closer to the $299 mark set in 2022. Overall, we saw a moderating market and a return on seasonal norms held back by apprehension from buyers and sellers alike. While volume in all segments is down compared to pandemic years, sales in this segment are up 35.17 percent compared to 2020 and 42.83 percent from 2019."

Michelle Schwinghammer

,

DMAR Market Trends Committee member, and Denver REALTOR®.
*Remarks from Pages 15-16 of the July 2023 Market Trends Report from DMAR
ActivePipe Message ID: 1773970