Pimento Cheese Fries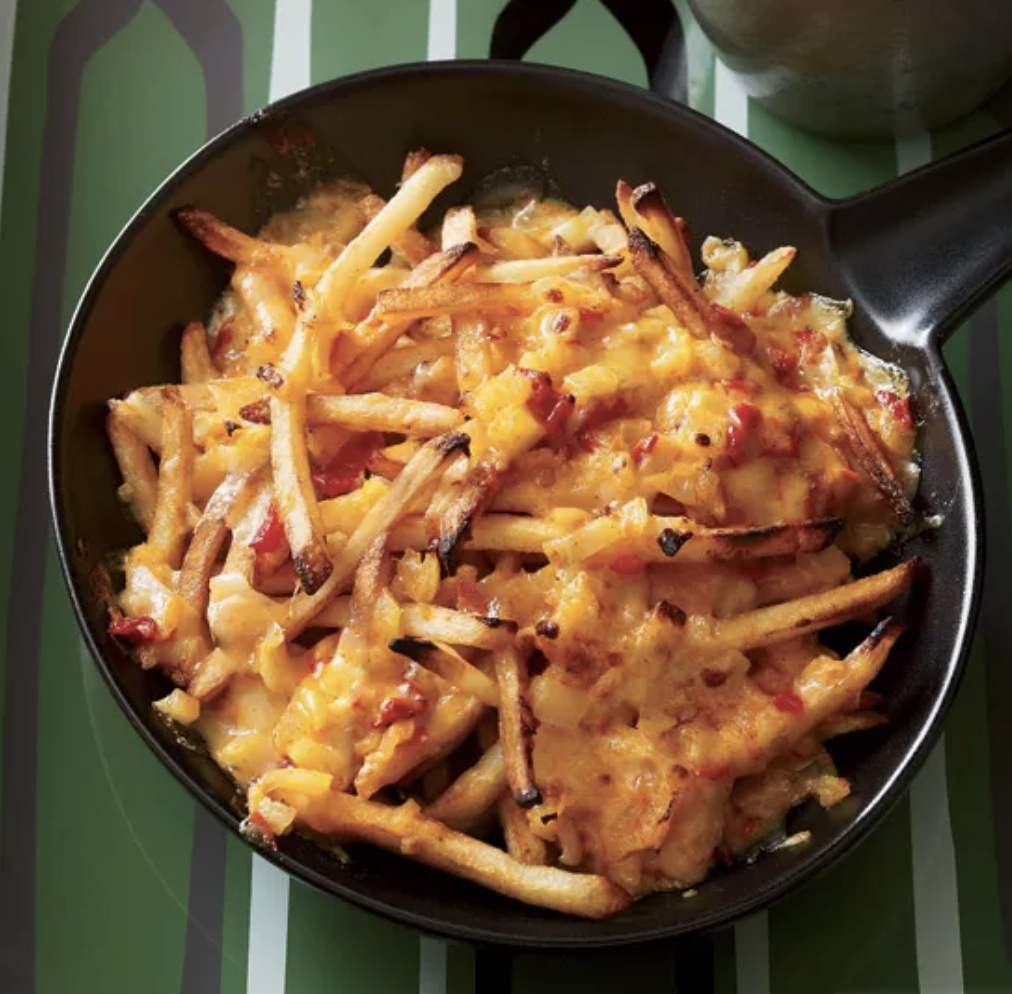 3/4 pound aged white cheddar cheese, shredded
2 tablespoons chopped jarred pimientos
1/4 teaspoon cayenne pepper
Two 15-ounce packages frozen french fries or 1 recipe unseasoned Pommes Frites
Step 1 In a bowl, combine the cheese and tequila; refrigerate until the tequila is absorbed, about 30 minutes.
Step 2 Roast the chiles directly over a gas flame or under a preheated broiler, turning, until charred all over. Peel, seed and stem the chiles, then cut into 1/4-inch dice.
Step 3 In a medium skillet, melt the butter. Add the onion and cook over moderately low heat until softened, about 7 minutes. Scrape the onion into the infused cheese. Add the mayonnaise, pimientos, paprika, cayenne and chiles. Season the pimento cheese with smoked sea salt.
Step 4 Preheat the oven to 425°. Spread the french fries on a rimmed baking sheet in a single layer. Bake for 20 to 25 minutes, until browned and crisp. Remove the fries from the oven and preheat the broiler. Spoon the pimiento cheese over the fries and broil 4 to 6 inches from the heat for 3 to 5 minutes, until the cheese is melted and browned in spots. Serve right away.
Recipes Courtesy Food & Wine
Warm Spinach-Artichoke Dip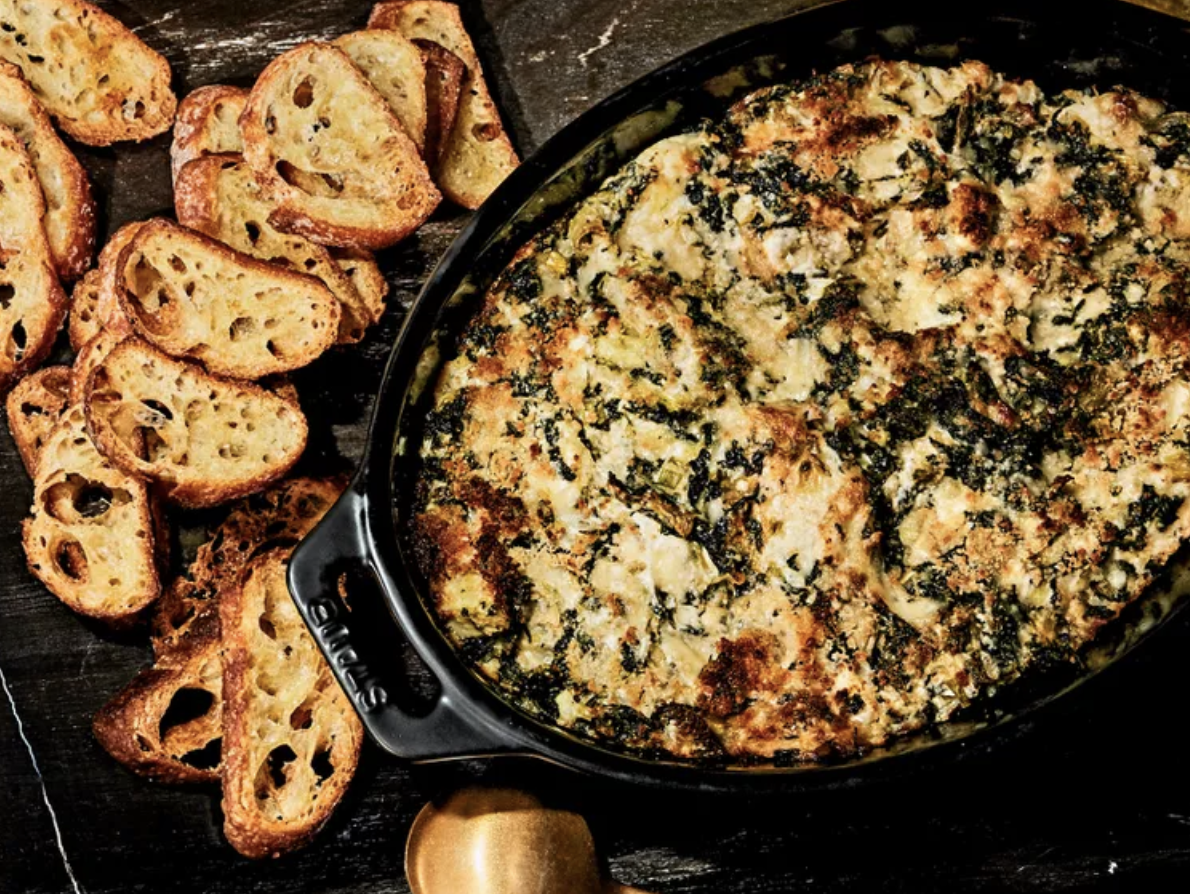 6 ounces cream cheese, softened

3 ounces Gouda cheese, grated (about 3/4 cup)

2 ounces low-moisture part-skim mozzarella cheese, shredded (about 1/2 cup)

1 cup chopped thawed frozen spinach, drained well

3/4 cup chopped thawed frozen artichoke hearts

1/4 cup chopped scallions (from 3 scallions)

1/4 cup mayonnaise

1 teaspoon finely chopped garlic (from 1 garlic clove)

1/2 teaspoon kosher salt

1/4 teaspoon cayenne pepper

1 ounce Parmesan cheese, grated (about 1/4 cup)

Crostini or tortilla chips
Preheat oven to 400°F. Stir together cream cheese, Gouda, mozzarella, spinach, artichoke hearts, scallions, mayonnaise, garlic, salt, and cayenne pepper in a medium bowl until smooth. Spoon into a 1-quart baking dish; sprinkle top evenly with Parmesan. Bake in preheated oven until browned and bubby, about 25 minutes. Serve with crostini or tortilla chips.
Recipes Courtesy Food & Wine
Nachos Supreme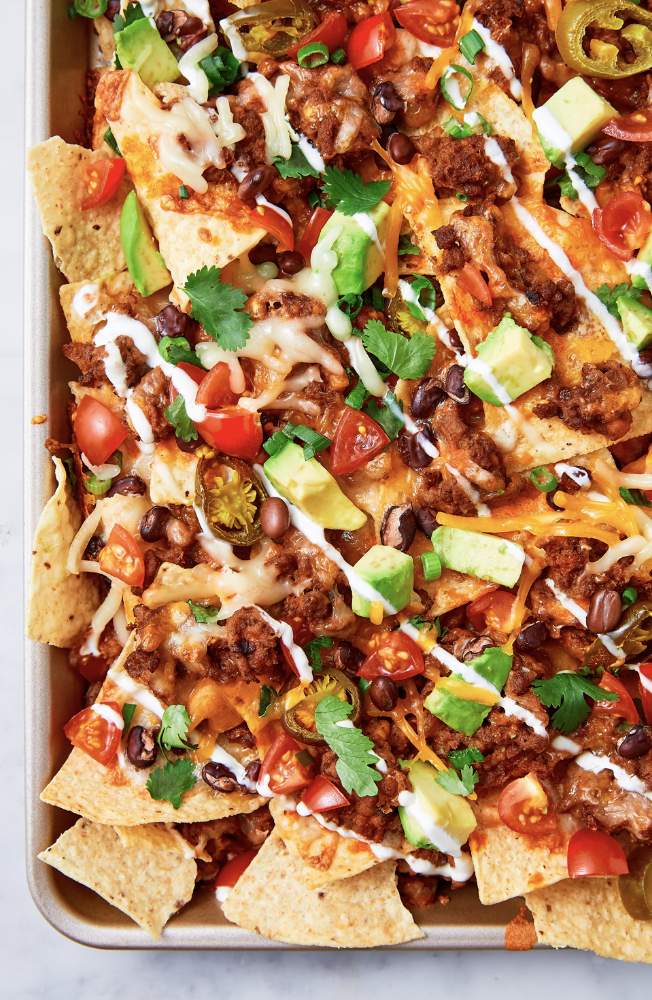 1 tbsp. extra-virgin olive oil

1 large onion, chopped

1 lb. ground beef

2 garlic cloves, minced

1 tbsp. taco seasoning

kosher salt

1 (15-oz.) can refried beans

1/4 c. water

1 large bag tortilla chips

2 c. shredded cheddar

2 c. Shredded Monterey jack

1 (15-oz.) can black beans, drained

1/2 c. pickled jalapeños
1 large tomato, diced

1 avocado, diced

1/4 c. thinly sliced green onions

1/4 c. fresh cilantro leaves (optional)

Sour cream, for drizzling

Hot sauce, for drizzling
Step 1 Preheat oven to 425º and line a large baking sheet with foil. In a large skillet over medium heat, heat oil. Add onion and cook until soft, 5 minutes, then add ground beef and cook until no longer pink, 6 minutes more. Drain fat.
Step 2 Add garlic and taco seasoning and season with salt. Cook until meat is well browned and slightly crispy, 5 minutes more. Add refried beans and water to skillet and stir until combined.
Step 3 Add half the tortilla chips and top with beef-bean mixture, half the cheese, half the black beans, and half the pickled jalapeños. Repeat one more layer.
Step 4 Bake until cheese is melty, 15 minutes.
Step 5 Scatter with tomato, avocado, green onions, and cilantro. Drizzle with sour cream and hot sauce and serve immediately.
Pulled Pork Sliders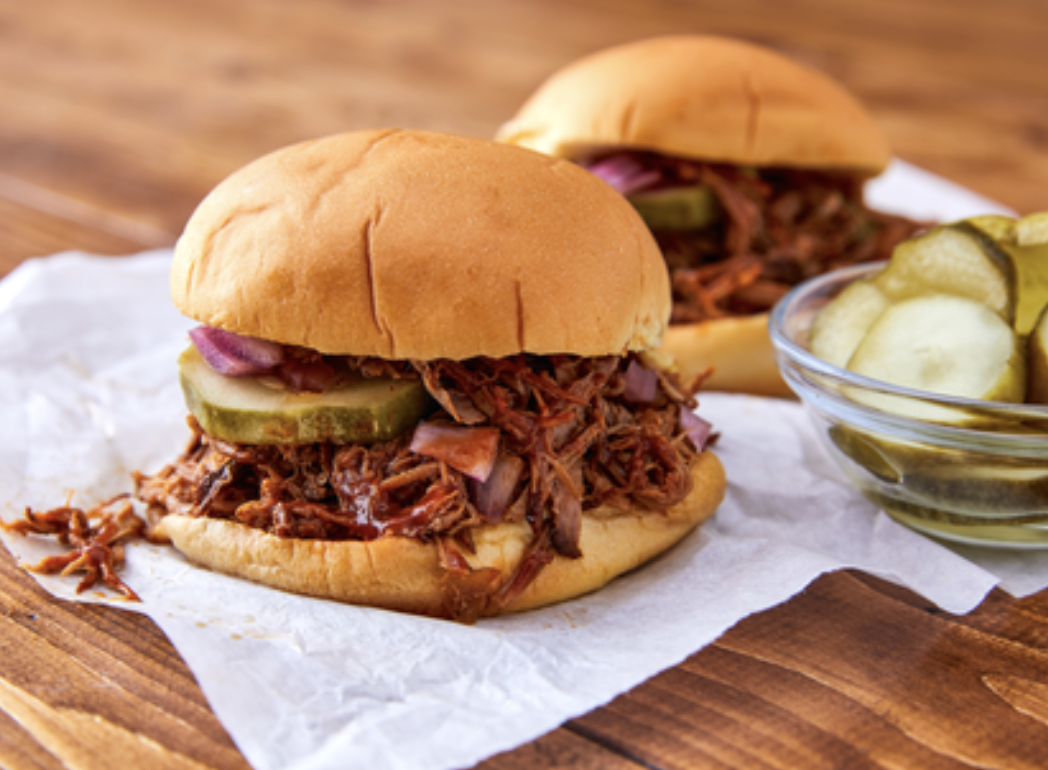 1 onion, finely chopped

3/4 c. ketchup

3 tbsp. tomato paste

1/4 c. apple cider vinegar

1 tsp. paprika

1 tsp. garlic powder

1 tsp. mustard powder

1 tsp. cumin

1 (3- to 4-lb.) pork shoulder, trimmed of excess fat

Kosher salt

Freshly ground black pepper

Coleslaw, for serving

Buns, for serving
Step 1 Combine onion, ketchup, tomato paste, apple cider vinegar and spices in the bowl of a slow cooker. Season pork shoulder all over with salt and pepper then add to slow cooker, covering it with ketchup mixture. Cover and cook until very tender (the meat should fall apart easily with a fork!), on HIGH for 5 to 6 hours or on LOW for 8 to 10 hours.
Step 2 Remove pork from slow cooker and transfer to bowl. Shred with two forks and toss with juices from the slow cooker. Serve on buns with coleslaw.
ActivePipe Message ID: 1440441