ARE WE IN A BUYER'S MARKET?
"Traditionally, a market with less than three months of inventory is considered a seller's market. In direct relation to that, a market with more than six months of inventory is considered a buyer's market - meaning that the sweet spot of three to six months of inventory is defined as a balanced market. This is a helpful benchmark to define our current market, which is undoubtedly changing. Currently, the $100,000 to $199,999 and $1 million and over segments for detached homes are pushing the three percent threshold, with 2.75 percent and 2.62 percent, respectively. The $1 million and over segment for attached homes is at 2.83 months of inventory. Using months of inventory as a metric indicates that we are moving toward a balanced market."
-
LIBBY LEVINSON-KATZ,
Chair of the DMAR Market Trends Committee and Denver REALTOR®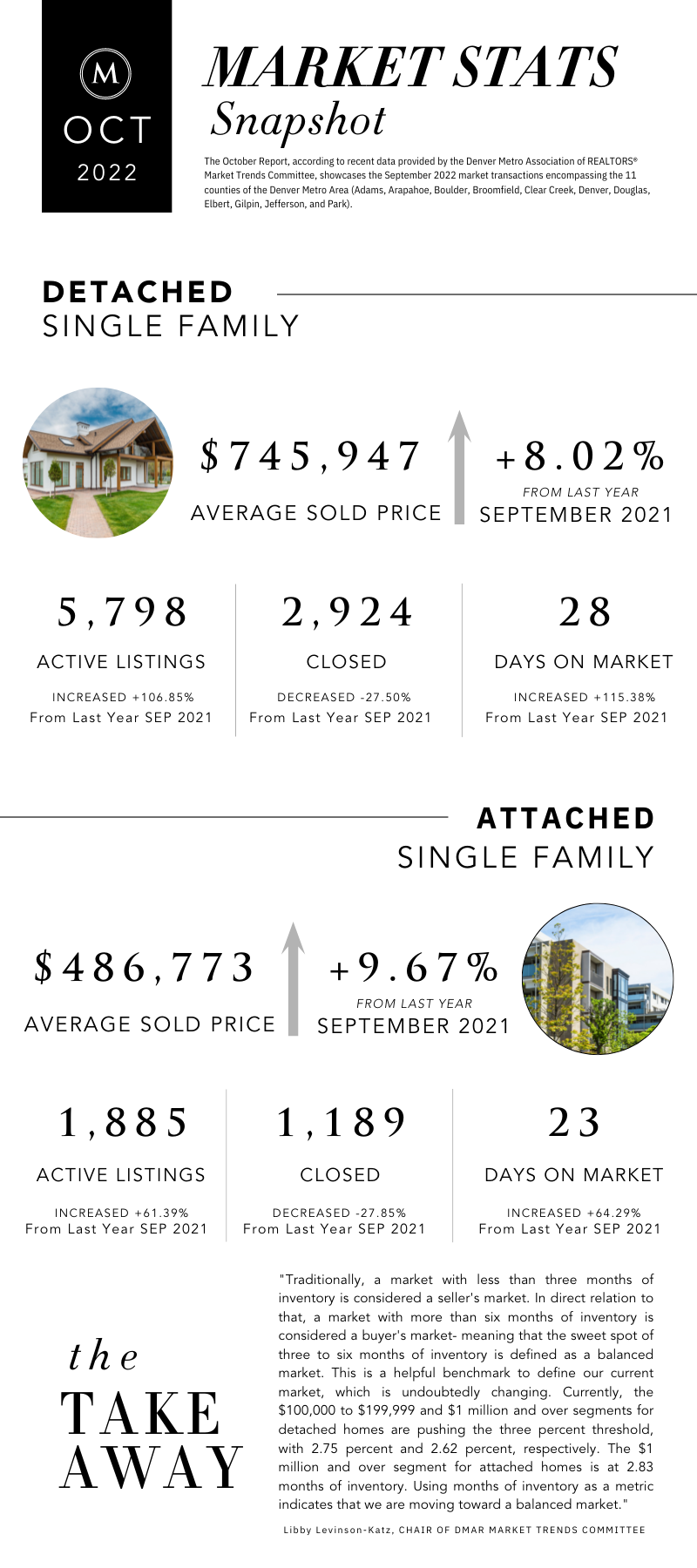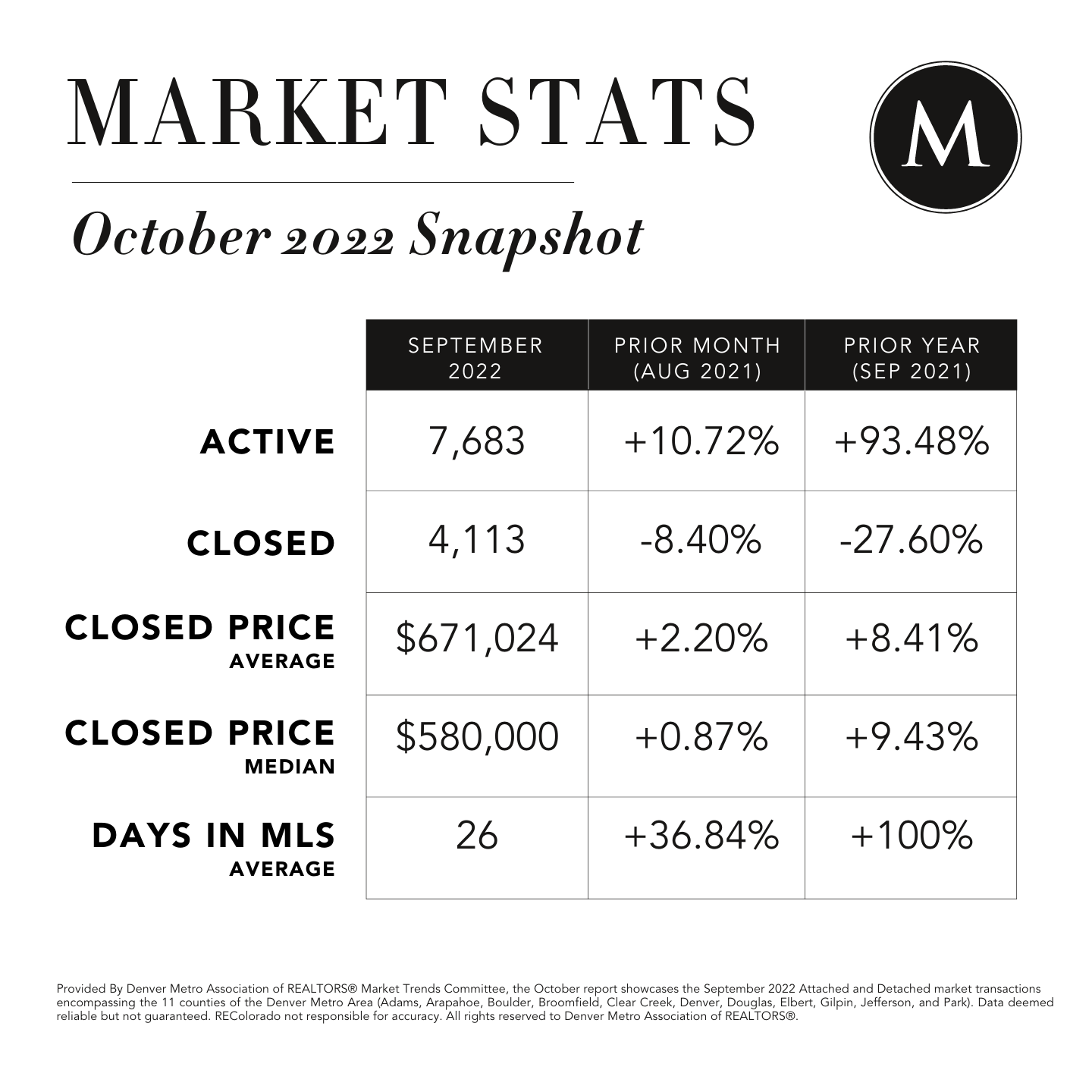 LUXURY MARKET ($1,000,000 AND UP):

[Luxury buyers] have more time to decide which luxury home to buy. Both detached and attached markets saw a significant increase in the average days in the MLS from August, up 31.82 percent or 29 days for detached, and 40 percent or 35 days for attached. This slowing market is echoed in the drop in the number of pending sales in September, which decreased 16.35 percent for detached homes and 8.33 percent for attached. The spring frenzied bidding wars also seem to have subsided; the close-price-to-list-price ratio dropped below 100 percent again this month, to 98.21 percent for detached and 99.30 for attached. -

Colleen Covell, DMAR Market Trends Committee member, and Denver REALTOR®.

SIGNATURE MARKET ($750,000 - $999,999):

This price segment saw a decrease in overall sales volume at $502,316,127, down 8.61 percent from an August sales volume of $549,633,257; however, year-to-date, the sales volume was up 22.45 percent due to the activity in the market early in the year. The year-to-date sales volume for this price segment increased from $2,652,276,031 in 2020 to $5,352,144,397 in 2022. The Number of closed detached homes decreased month-over-month by 10.22 percent; however, attached units increased 9.84 percent. The median days in the MLS for detached homes in September was 21 days and 14 days for attached homes. Although homes spent more time on the market, the close-to-list-price ratio was 99.12 percent for the combined detached and attached properties. The luxury of time isn't something buyers have had over the past two years; as properties age on the market, buyers are able to take some time with their decisions and negotiate on price, inspection items and possibly interest rate buydowns.

- Amanda Snitker, DMAR Market Trends Committee member, and Denver REALTOR®.

PREMIER MARKET ($500,000 - $749,999):

While there are factors that support a seller's market in the traditional sense, with continued lower inventory levels, other factors show a rise in momentum for buyers. In the Premier Market, sales volume and closings were down about 10 percent (9.95 percent and 9.85 percent, respectively). Days in the MLS continued their climb and were up to 28 days on average, seven days greater than last month and 15 days greater than July. Average close price remained under list price for the second month after being well over the mark for over two years.

- Nick DiPasquale, DMAR Market Trends Committee member, and Denver REALTOR®.

CLASSIC MARKET ($300,000 - $499,999):

Attached homes are still hot in [the price per square foot] category. Attached homebuyers in the Classic Market paid, on average, $325 per square foot - which is 11.30 percent more than in September last year. But, for the first time in a long time, many buyers bought an attached home for at - or just below - list price, with the closed-price-to-list-price ratio falling to 99.72 percent. As median days in MLS increased 71.43 percent over last month, price per square foot continued to rise. Inventory of new listings was down 15.12 percent over last year and closed sales volume was also down 24.54 percent compared to last year. Hot homes, cooling market. The number of detached homes priced in the Classic Market category continued to shrink. Dropping another 1.59 percent from last month, and 46.32 percent from last year, new listings in this category fell to 679. Although the close-price-to-list-price ratio indicated sellers have more opportunity to negotiate on price, the lack of new listings still created a tight market for buyers. Of the 3,772 total detached new listings in September 2022, only 18 percent were priced between $300,00 and $499,999

- Susan Thayer, DMAR Market Trends Committee member, and Denver REALTOR®.
*Remarks from Page 17-18 of the October 2022 Market Trends Report from DMAR
Get in the Halloween Spirit!

If you are looking for some spooktacular activities to do this October it's time to go see one of Colorado's many castles! If you get a chance to tour one of the 14 castles in the state, you'll see they are all unique and extravagant in their own way, ranging from fairly new to hundreds of years old. Then head over to a Ghost Tour for a night of fun and fright while walking Colorado's historic streets!
ActivePipe Message ID: 1314271